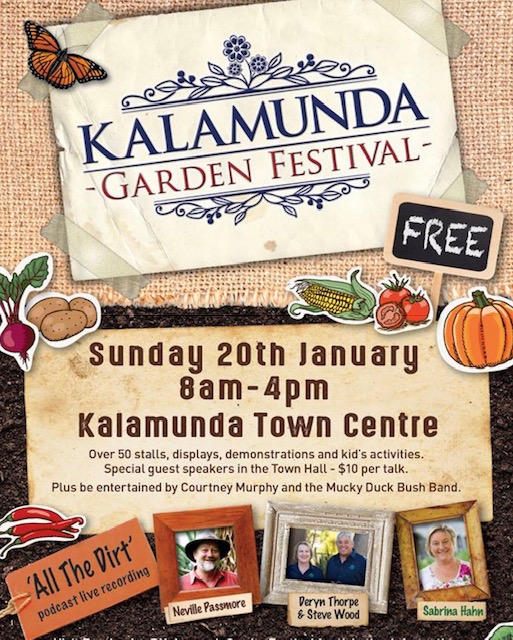 What a fantastic day this will be! Head on down to the Kalamunda Garden Festival and help support your local growers with over 50 stalls. Its a fabulous day out for the whole family.
Have a laugh with me as we discuss the essential summer garden check-list'. I'll be talking in the town hall on Sunday Jan 20th at 11am. If you miss out on the talk come and see me at the Sabrina Hahn stall. (All questions answered expect bloody citrus questions!) The team and I will have some great free gardening activities for the kids and all the latest merchandise.
$10 per ticket. This event has almost sold out. The MC is Neville Passmore.
For tickets, contact Andrew at; info@kalamundagardenfestival.com.au or via their Facebook page.
Check out the line-up of guest speakers tickets $10. See them all, including the 'All The Dirt' podcast recording for $50.
When
20th January, 2019
8:00am - 4:00pm
Where
Kalamunda Town Centre
Barber st Kalamunda
Facebook