Coir forestry tube – Pack of 10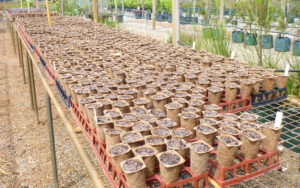 Ideal for revegetation and rehabilitation.
No more environmentally harmful plastic pots100% Biodegradable and organic
A renewable, sustainable resource from a by product coconut fibre not peat moss.
Pot, plant and medium can be transplanted in its entirety reducing labour costs
Eliminates the shock to roots during transplanting
Roots go through the pots and are air pruned until planted in the ground
No root binding
No waste to dispose of at the growing site
Many sizes available, including custom sizes
Evaporative cooling of root zone
Lifespan of the pots are 1 to 2 years
Pot size 130mm High, 55mm Wide, 35mm Base
For wholesale enquiries please email Jess at admin@sabrinahahn.com.au
Pick up from Sabrina Hahn – Hort with Heart warehouse 2/5 Strang Court Beaconsfield WA.
This item is out of stock