Grow Safe Spreadable Soil Microbes plus Trace Minerals
Metro delivery ONLY. Sorry we do not post any Grow Safe products. Pick up from 2/5 Strang Crt Beaconsfield
A complete application of beneficial soil bacteria and fungi – Suitable for all plant and soil types. Total bacteria and fungi 270 Billion Colony Forming Units per kg. AMF Soil Microbes: available in dry powder form (unless marked). Long shelf life; no refrigeration required. A range of microbe coated mineral fertilisers = The "Grow Safe" range. AMF Soil Microbe blends contain a scientifically balanced blend of specific beneficial bacterial and fungal organisms totalling between 24–30 strains. Some of those include:
Actinomycetes assist in soil health and nutrient cycling
Azotobacter produce plant growth regulators
Azospirillum free-living N fixers, convert atmospheric N
Bacilli lactic acid bacteria, help soil conditioning and structure
Cellulosic fungi cellulose decomposers release organic C
Mycorrhiza fungi involved in mineral nutrient uptake to plants
Phosphobacter convert P
Pseudomonas soldier bacteria help protect plants and root zone
Rhizobium legume nitrogen fixers
Streptomyces anti-pathogenic
Saccharomyces yeasts
Trichoderma spp in Premium Ag and Trichoderma Plus blends.
Stockist. https://www.growsafe.com.au/stockists/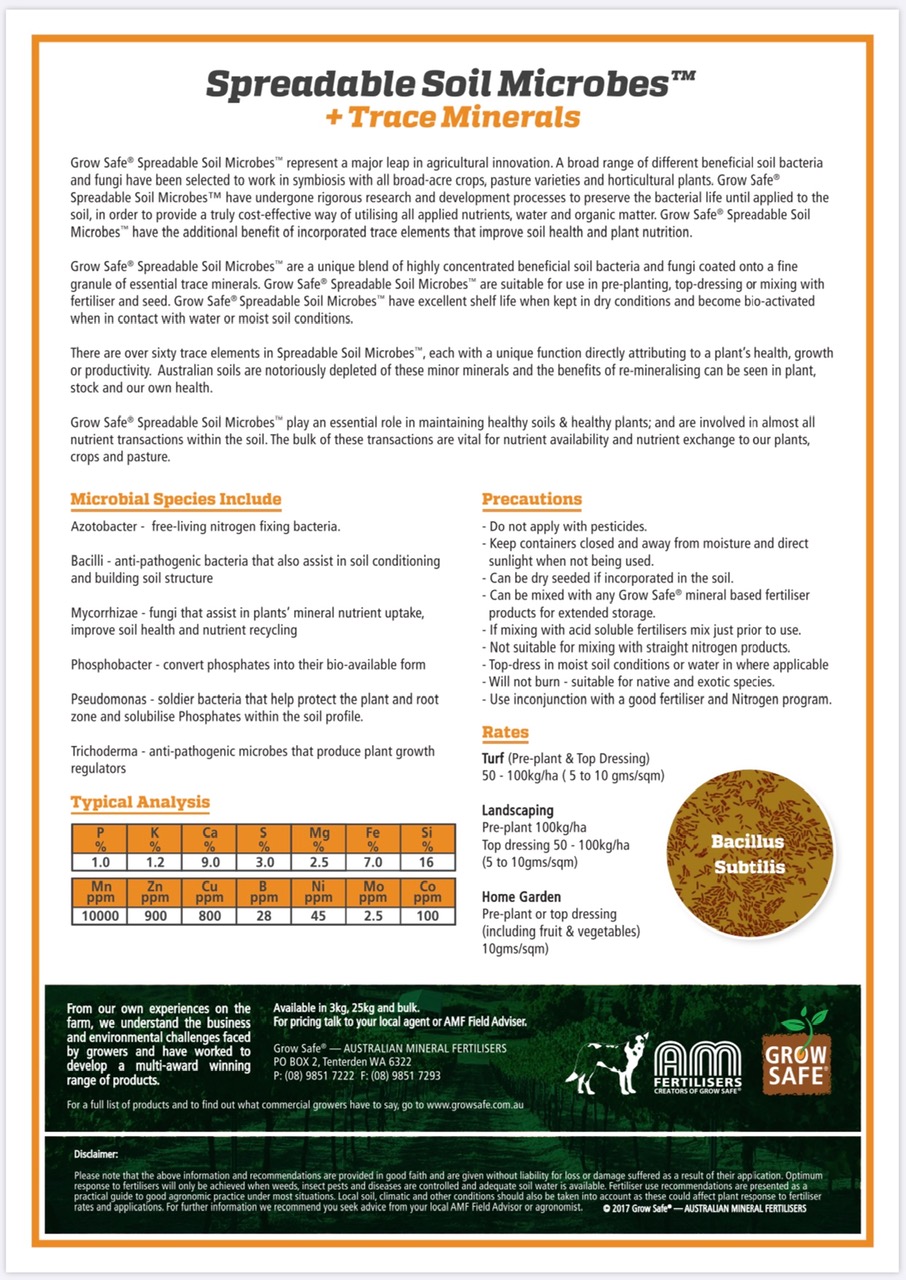 This item is out of stock